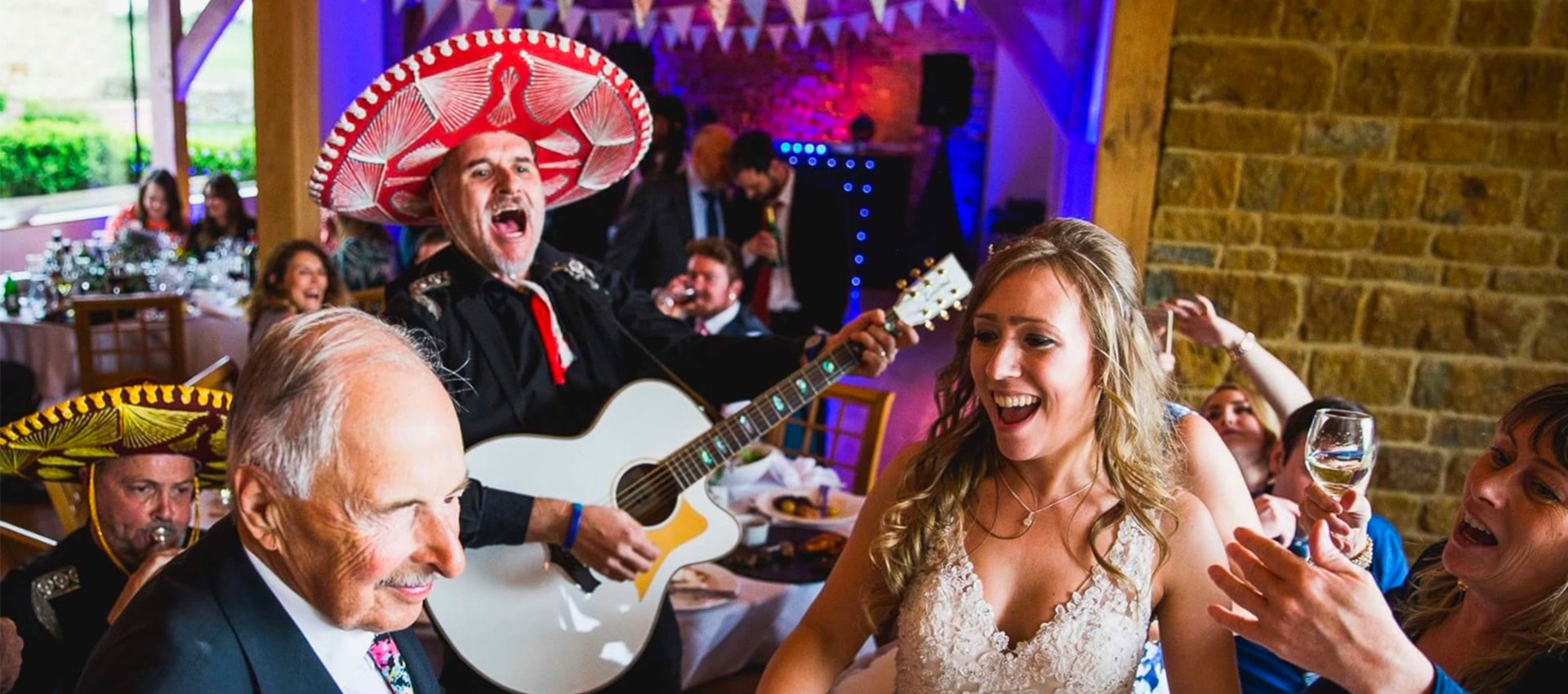 We are Beat Banditos
We are a unique acoustic London Mariachi band. We're talented, professional musicians and singers who know how to create a party vibe. To put it simply: we're really, really, really good fun.
We have a hugely successful history together, performing for many big name corporate clients including: HSBC, Twitter, Yahoo, Dominos Pizza Head Office, not to mention the countless weddings and private parties we've had the pleasure of performing at over the years.
At an event, you can expect to hear the typical sounds of Mexican/Mariachi music in our repertoire, with the likes of 'La Bamba' and 'Tequila', but also the very latest pop chart music such as 'Happy' & 'Pencil Full Of Lead', all performed with a Mexican twist!
Comedy is also a highly important aspect to our act. We - the 3 amigos - will have you laughing and dancing in no time as we immerse ourselves in the audience, seranading guests as they wander around the venue. Read all about our previous clients' reactions on the testimonials page.
So...for a hilarious and entertaining musical performance choose the brilliant London Mariachi band: Beat Banditos and all your guests will go home screaming ARRRREEEEBAHHHHHHHHHHHHHHHHHH !!!!!! 
- Beat Banditos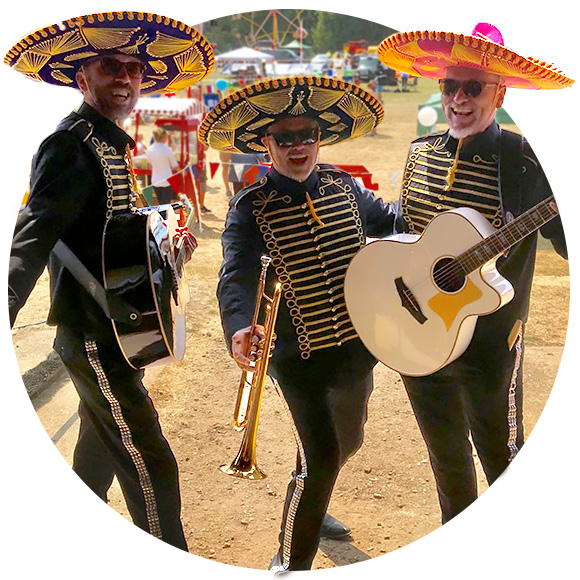 46 customer reviews
"Just book them. Honestly they absolutely MADE the day. Honestly couldn't imagine doing our wedding drinks reception without them."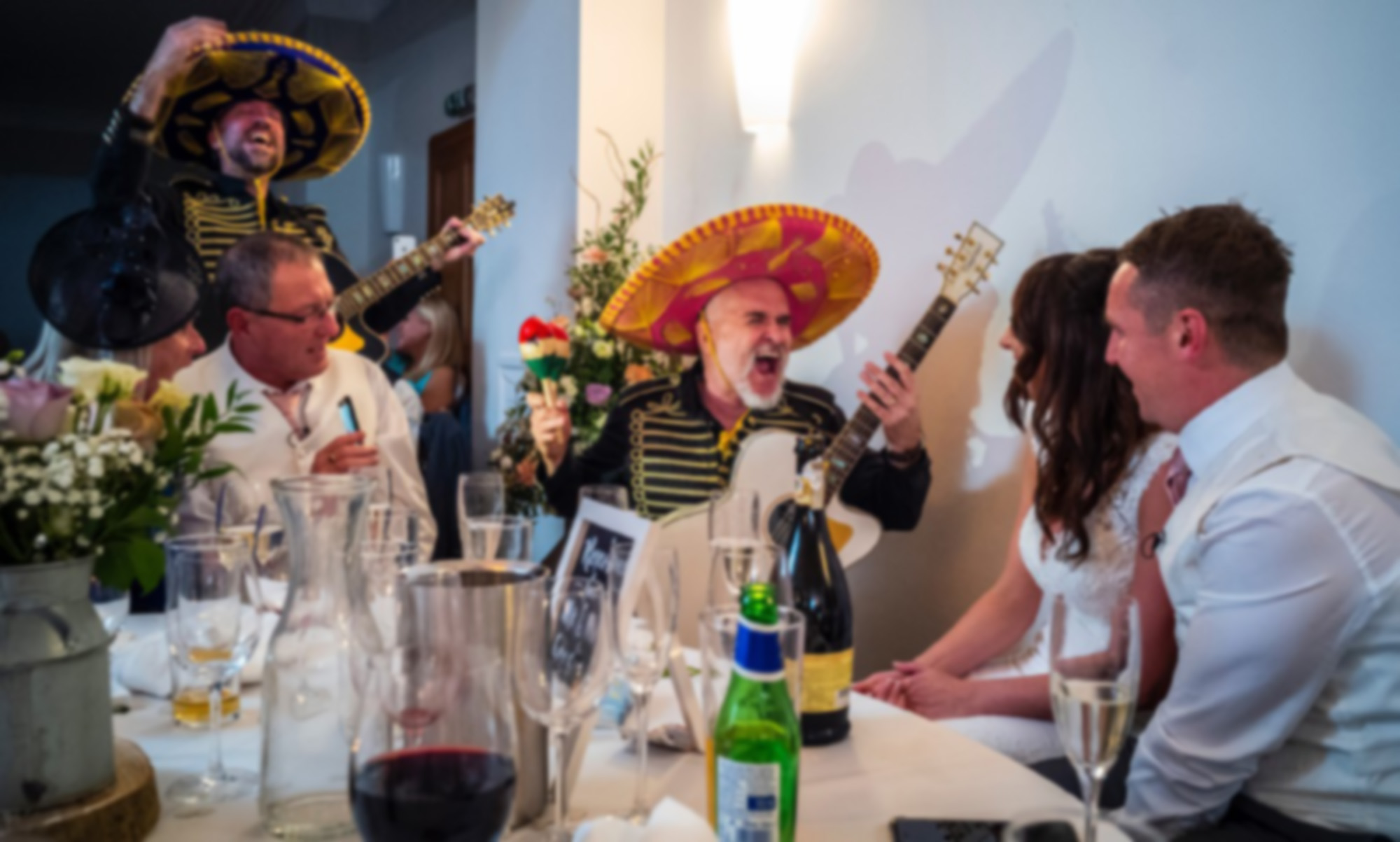 " Great communication prior to the event, arrived promptly & performed brilliantly! These guys looked the part, played well & got into the party spirit. Loved the song choices too. Thanks Beat Banditos... - Natalie W "
"
The Beat Banditos were one of the highlights of our wedding day. I tried to keep it a secret so that our guests would be surprised, and I'm so glad I did as their reactions were priceless! The guys we...
- Amy S
"
"
Beat Baniditos way exceeded our expectations, they know how to play a crowd so well (old and young) and they really worked the room, everyone single person without fail thought they were brilliant, bo...
- Debbie H
"
"
They were amazing, ALL our guests enjoyed their performance!
- Amanda E
"
"
10/10. Your service was excellent and the band was fabulous. All the party goers keep going on about them- amazingly brilliant.
- kimberley
"
"
Beat Banditos were booked to perform at my wife's 50th birthday party. She really enjoyed their performance, as did all our guests. They did a great job of engaging with all the guests, and really got...
- Peter G
"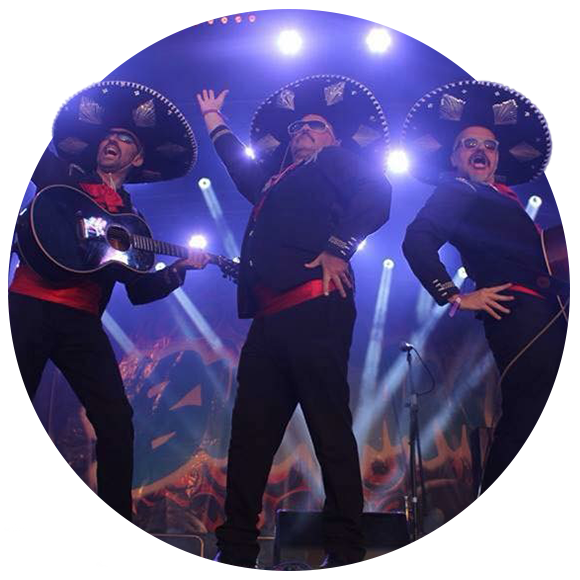 Your Event Deserves The Best
Check Out What You Get
Unforgettable trio performing popular Rock & Pop in a Mexican style!
From Lady GaGa to Guns & Roses, you & your guest
The trio can wander around your guests entertaining everybody!
Stage performance is available if requested!
Risk free bookings with included Covid Cover
Call Us On 01782 740839 or Make An Enquiry